Midi file availability


Simple Piano
I provide, in most case midi files with the 'simple piano' recordings. I play these on my digital piano (a Yamaha Clavinova) and it actually puts out a midi file. These are the basis of the simple Piano midi files.

Band
(From October 2016 onwards)
There is now a 'Piano & Instrumental' recording which has a midi file which is generated from the BIAB file. I have played the midi file through the Garritan (Jazz & Big Band - Orchestral) software to produce the MP3 files on this site. (see sample by clicking here).
The midi channel numbers are:

1: Melody (single note)
2: Bass
3: Piano
6: Guitar or Piano
7: Strings (use organ sound in the Garritan software)
8: Soloist (not often used)
10: Drums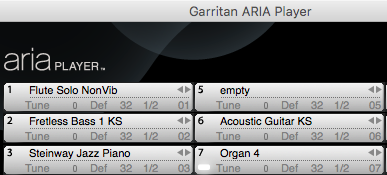 Note: There are no drums in the MP3 file.

A significant problem with midi, is that the end result so much depends on the quality of the end users midi sound card and the balance between tracks. With the simple piano midi files, there is not much that can be altered, but the more instruments you have the more the sound quality and balance can be changed. I find even with the simple piano midis, that they sound very different depending on what I play them on, eg if I play them on my computer, it sounds very inferior to when I play them through the Clavinova.

A wonderful free player that works well with these midi files

Rev. Wayne McHugh has developed 'MyMidi' player which is ideal for playing midi files in churches. It is offered free of charge. Visit his site at http://mymidi.audio. To download the program, first 'log on' (on the home page) and then go to 'All downloads' menu.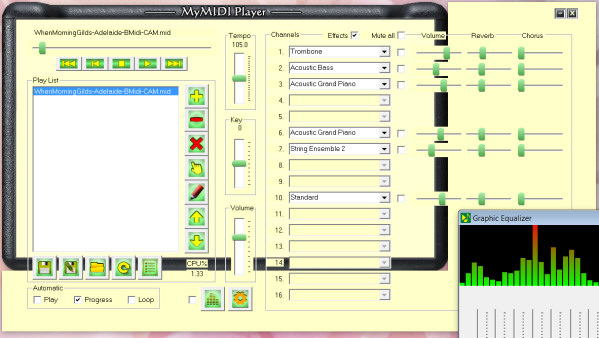 I had proposed to do some sample recordings using MyMidi player, but it is so easy to use, I thought it best for you to try it yourself. Simply download one of the midi files from this site and try it, by adjusting the controls to obtain a sound balance, tempo and pitch that you like.

If you want to actually edit the midi file yourself
then you will need a midi editor. One suitable midi editor that allows you to edit all aspects of a midi file (like track numbers, loudness, tempo, delete individual notes, etc) is the 'Notation Composer' software. Click here to go to their website.